PARTNERSHIP. INTEGRITY. SUCCESS.
---
We strive to build relationships based on honesty and respect with all of the constituents who enable our business – our management partners, their company employees, our investors, lenders and other capital providers, intermediaries and the professional service providers who advise us.
We align our interests to achieve positive results for all through the success of the companies that we back.
"We had many choices among capital partners, and selected Turning Basin. They have been a tremendous resource to our team, and offer a unique form of collaborative guidance that we have not seen among many private equity firms involved in our industry. I can't say enough about their entire team. "
– Alvaro Mendoza, CES
"This capital investment marks a milestone in our company's history. It serves as the catalyst for the next level of NGS' growth, industry leadership, and opportunity for our employees, customers, and partners."
– James Beale, NGS
WORKING WITH BUSINESS OWNERS AND MANAGERS
---
We support owners and management teams in creating great businesses.  We invest in established companies, with track records of success based on sustainable competitive advantages, and we help those businesses take the next step in their growth trajectory.
We rely on our years of experience working with successful private businesses to assist in building scalable and efficient organizations that enable long-term growth.
Turning Basin Capital partners with founder entrepreneurs, typically as the first institutional capital provider to the business, and we get to work, supporting them to solve challenges and overcome obstacles to achieve continued growth.
Above all, we know what we don't know.  We rely on our experienced management partners to continue the excellent operation of their companies that attracted us in the first place.  We seek to be constructive and additive to their efforts, while avoiding unnecessary and distracting interference.
BUILDING PARTNERSHIPS
Turning Basin Capital supports the vision of our experienced management partners for growth and value creation by:
Bringing process and structure to analyzing, prioritizing and executing strategic growth initiatives
Sharing best practices that have enabled other successful organizations to navigate the many challenges that growing companies encounter
Improving information flow and access to data for better real-time understanding of business performance and trends, and for measuring progress towards strategic goals
Providing access to capital to support growth initiatives
Sourcing and completing add-on acquisitions
Helping find, attract, develop and retain talented individuals
Understanding the value drivers that maximize long-term value creation for us and our management partners
CREATING VALUE THROUGH LOWER MIDDLE MARKET INVESTING
---
We take a unique approach to sourcing capital on a deal-by-deal basis from a network of high-net-worth individuals, family offices and larger private equity firms.
We are structured to offer efficient access to lower middle market deal opportunities to this investor class without having the burden and restrictions of the traditional fund structure.
Our investment thesis recognizes the inefficiency of the lower middle market M&A environment where sellers have limited access to institutional capital due to company sizes and investment amounts that fall below the requirements of traditional private equity firms and lenders.
We seek to create value for our investors by partnering with strong management teams of companies with unique competitive advantages and helping them achieve their growth objectives by bringing capital and strategic advice to this underserved market segment.
If you are interested in learning more about joining the Turning Basin Capital investor network, please contact Henry Berling at: [email protected].
INVESTMENT PROCESS AND CRITERIA
---
We seek to develop long-term relationships with intermediaries who represent business owners in our target market and sectors. We strive to be responsive and open in our assessment of new opportunities and maintain flexibility to work within a broad range of processes.
Turning Basin Capital welcomes introductions to intermediaries to build a better understanding of our strategy, approach and process.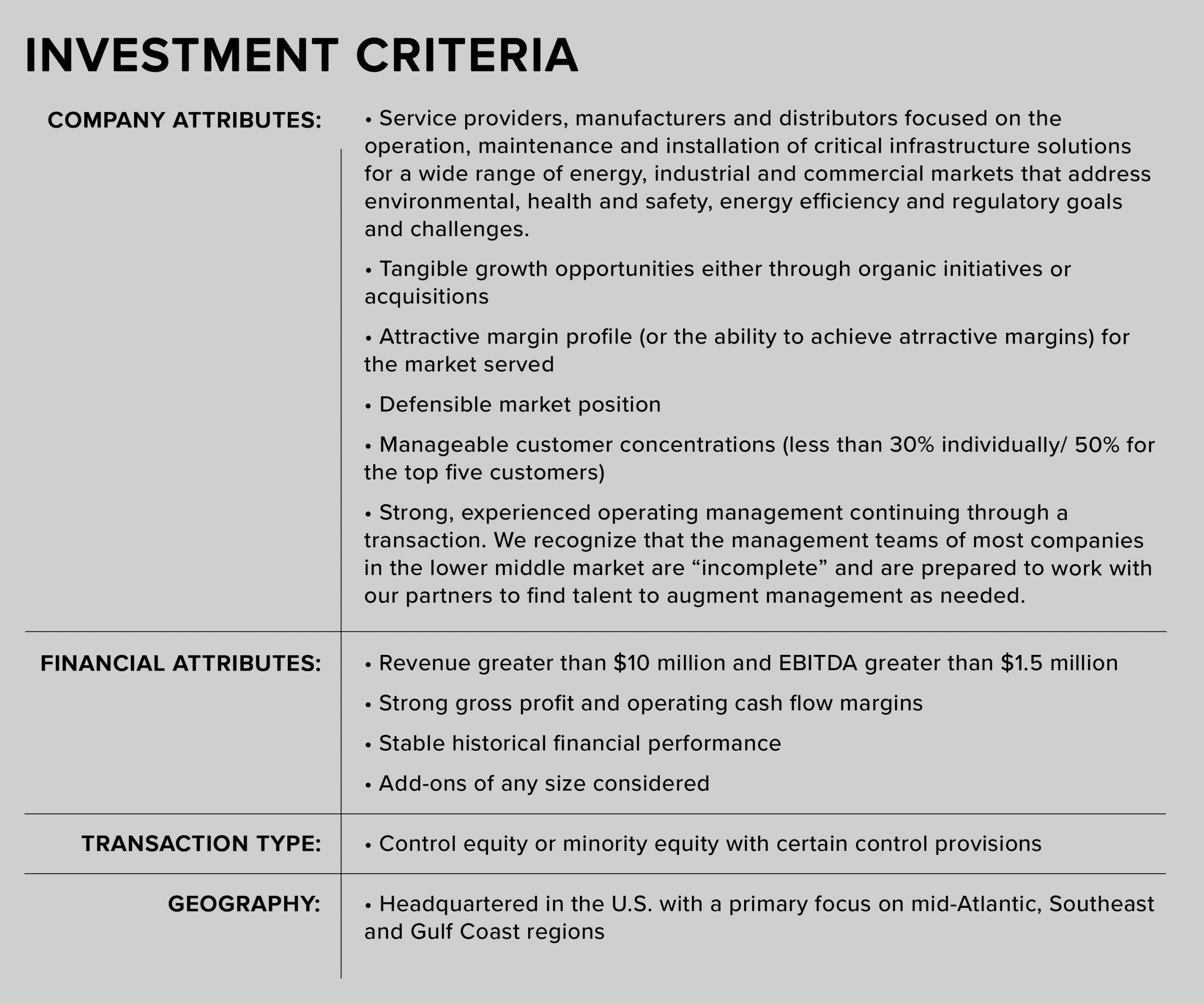 To discuss a specific opportunity, or to simply learn more about our firm, please contact:

OUR DIFFERENCE IS EXPERIENCE
Turning Basin Capital Partners
1405 West Main St
Richmond, VA 23220